Kishin are corrupted beings that have eaten so many innocent Souls that they become twisted and altered, a sort of sanctuary from any fear. They start to become demonic in many ways and become extremely powerful. There are expected to be many more in Soul Eater Fanon than in the actual manga and anime as it starts to expand.
Here, a list of Roleplaying/Non-Roleplaying Kishin throughout Soul Eater Fanon will be posted: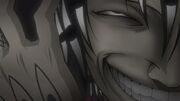 Ad blocker interference detected!
Wikia is a free-to-use site that makes money from advertising. We have a modified experience for viewers using ad blockers

Wikia is not accessible if you've made further modifications. Remove the custom ad blocker rule(s) and the page will load as expected.